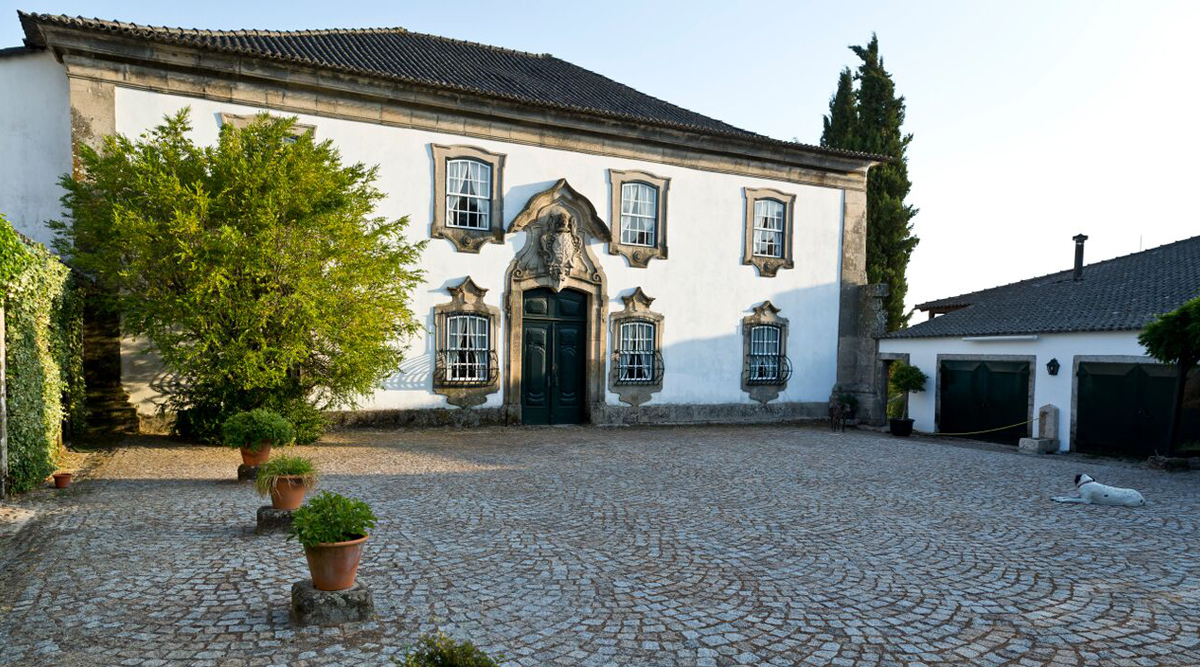 International Properties
Portugal


PROPERTY DESCRIPTION
Magically frozen in time, the Casfreires Manor House now offers the opportunity to own a stunning piece of Portuguese history. Sprawling over nearly ten acres of breathtaking countryside in the Centro Region of Portugal, the original construction of the 5,500 (approx.) square foot mansion dates back to the fourteenth century and the reign of King Dinis I. A major renovation in 1740 left the architectural complex with distinctive and beautiful baroque and neo-classical contours. The House of Casfreires, presently named the House of Oliva "Solar dos Oliva", has been in the Oliva family for 300 years, beginning with the Count Pedro de Oliva. Modern-time improvements and amenities include electrical and plumbing updates, newly installed roofing, central air conditioning, wireless internet access, swimming pool, Jacuzzi and a tennis court. Arriving the walled property, you are greeted by a vine-covered stone archway that perfectly frames the front entrance of the main house. A magnificent stone carving of the Oliva Family coat of arms sits atop the doorway, proudly announcing the importance of the home and its history to all who enter. Inside, the many grand rooms of the manor are filled with painted ceilings, antique furniture, museum-quality paintings and objets d'art that help maintain the authenticity and glory of the manor's golden age. All of these valuable pieces and works of art will remain for the new owner to discover and cherish. In the back gardens, endless views of the lush green Viseu countryside are seen from the manor's terraces and the large swimming pool. A full-size tennis court also boasts expansive and enchanting views.

---
VISEU, PORTUGAL
The charming and historical city of Viseu, just a thirty-minute drive from the Casfreires House, has repeatedly been voted as the best city to live in Portugal for its high quality of life. Surrounded by mountains and rivers Vouga and Dão, it is the birthplace of one of the greatest painters of the Portuguese Renaissance,Vasco Fernandes, and serves as a milestone of sacred art and religious architecture, as evidenced by the numerous churches that adorn the historical center. One of the Beiras' most appealing cities, Viseu rivals more-visited Coimbra for sheer charm and vitality. Its well-preserved historic center offers numerous enticements to pedestrians: cobbled streets, meandering alleys, leafy public gardens and a central square – Praça da República, aka the 'Rossio' – graced with bright flowers and fountains. Sweeping vistas over the surrounding plains unfold from the town's highest point, the square fronting the cathedral, built on the site of a former mosque, while some of Portugal's standout Renaissance art is on show alongside. Viseu is also a great place to eat and drink: the reds from the surrounding Dão region are considered to be some of Portugal's finest.

---
PROPERTY FEATURES:
9.8 acres of land
8 bedrooms
6 bathrooms
2 Annexes to main house with 4 additional apartments
Large eat-in kitchen
Glass greenhouse with wrap-around veranda
Laundry room
3 car garage
Swimming Pool
Tennis Court
Gardens
---
Price upon request